Rosina Barker, LVT, CPDT-KA
(Owner/Trainer)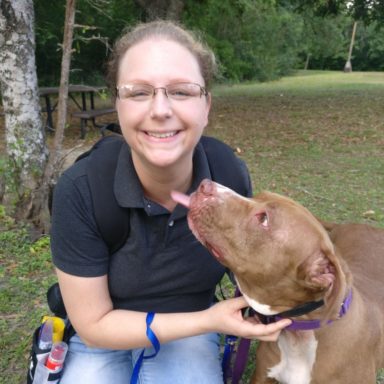 Originally from northern Indiana, I moved to Houston in 2011. As a child, I would always help an animal in need, from birds with broken wings to squirrels trapped in fences. My compassion for animals inspired me to choose a career that would fulfill my love for animals. I have really enjoyed sharing my life with a variety of animals such as dogs, hamsters, frogs and cats.
I graduated from Pima Medical Institute in 2012 as a Certified Veterinary Assistant. I worked as a veterinary technician for 4 years in a low cost clinic. I learned a lot about veterinary medicine and animal behavior during my time there. However, I wanted to strengthen my bond with animals and expand my knowledge, so I worked as a dog trainer in 2016 while I continued my education. In 2017, I graduated from Pima Medical Institute a second time with an Associate's Degree in Applied Science. I passed the VTNE and the Texas state boards and became a licensed veterinary technician. I then got a wonderful job at Midtown Veterinary Hospital!
While I was working as a dog trainer I found it to be very rewarding. That is why I started Barker Canine Academy. I now focus my life on what I love to do, both dog training and being a licensed veterinary technician. I work as a licensed veterinary technician full time when I am not dog training.
I am currently proud to have the companionship of my cat, Scaredy Cat, and my dog, Macchiato. I enjoy dog training and look forward to working with dogs and their owners preventing and solving behavior issues that can result in relinquishment to a shelter or possibly even euthanasia. My goal is to provide good personalized positive training that will enrich not only the life of the pet but the life of the owners as well!