Meet Your Trainer
Rosina A Barker, LVT, CPDT-KA (Owner/Trainer)
Originally from northern Indiana, I moved to Houston in 2011. As a child, I would always help an animal in need, from birds with broken wings to squirrels trapped in fences. My compassion for animals inspired me to choose a career that would fulfill my love for animals. I have really enjoyed sharing my life with a variety of animals such as dogs, hamsters, frogs, and cats.
I graduated from Pima Medical Institute in 2012 as a Certified Veterinary Assistant. I worked as a veterinary technician for 4 years in a low-cost clinic and learned a lot about veterinary medicine and animal behavior during my time there. However, I wanted to strengthen my bond with animals and expand my knowledge, so I worked as a dog trainer in 2016 while I continued my education. In 2017, I graduated from Pima Medical Institute a second time with an Associate's Degree in Applied Science. I passed the VTNE and the Texas state boards and became a Licensed Veterinary Technician before working a wonderful job at Midtown Veterinary Hospital where I worked for about 3 years. I got a great opportunity to be an instructor at a college teaching future Veterinary Assistants and Veterinary Technicians.
You can say that I am a Jack of all Trades when it comes to animals. Having this varied experience has made me better in all areas of the field. While I was working as a dog trainer, I found it to be very rewarding. That is why I started Barker Canine Academy. I now focus my life on what I love to do, both dog training, being a Licensed Veterinary Technician, and being an instructor. I work as a Licensed Veterinary Technician and an instructor part-time when I am not dog training.
I am currently proud to have the companionship of my cat, Scaredy Cat, and my dog, Macchiato. I enjoy dog training and look forward to working with dogs and their owners to prevent and solve behavior issues that could otherwise result in relinquishment to a shelter or possibly even euthanasia.
My goal is to provide good personalized positive training that will enrich not only the life of the pet but the life of the owners as well!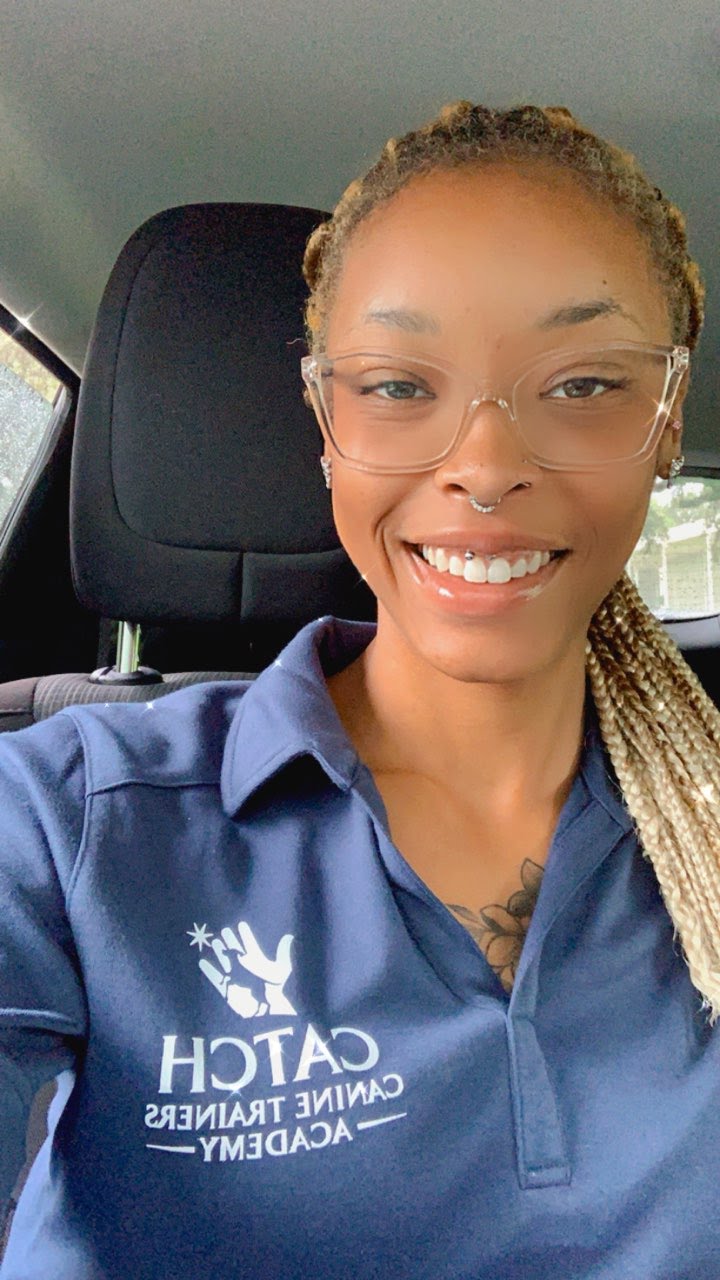 Areona Carter, CCDT (Trainer)
Hello, My name is Areona Carter. I am a graduate of CATCH Academy and a certified dog trainer. I am also a student at Texas A&M University studying Agriculture Journalism with a minor in Entrepreneurship.
Animals, in general, have always been my passion, my family knows me as the girl who will rescue any animal in need. This passion has led me to have five dogs of my own that keep me busy but I love it! After perusing my dream of dog boarding I decided that training would be my next step in the canine community. At CATCH I was lucky enough to have Rosina as my mentor and be a part of her team. With that being said, I am extremely excited to be joining this team and servicing your dogs!
Athena Barker (Assistant)
Athena joined Barker Canine Academy in 2020. She assists our dog trainers by adding distractions, aiding with behaviors, and assisting with meeting friendly strangers. She has a natural gift with dogs and is excited to be training to become our next dog trainer. She has a love for all animals! She has owned birds, frogs, rats, cats, and a dog.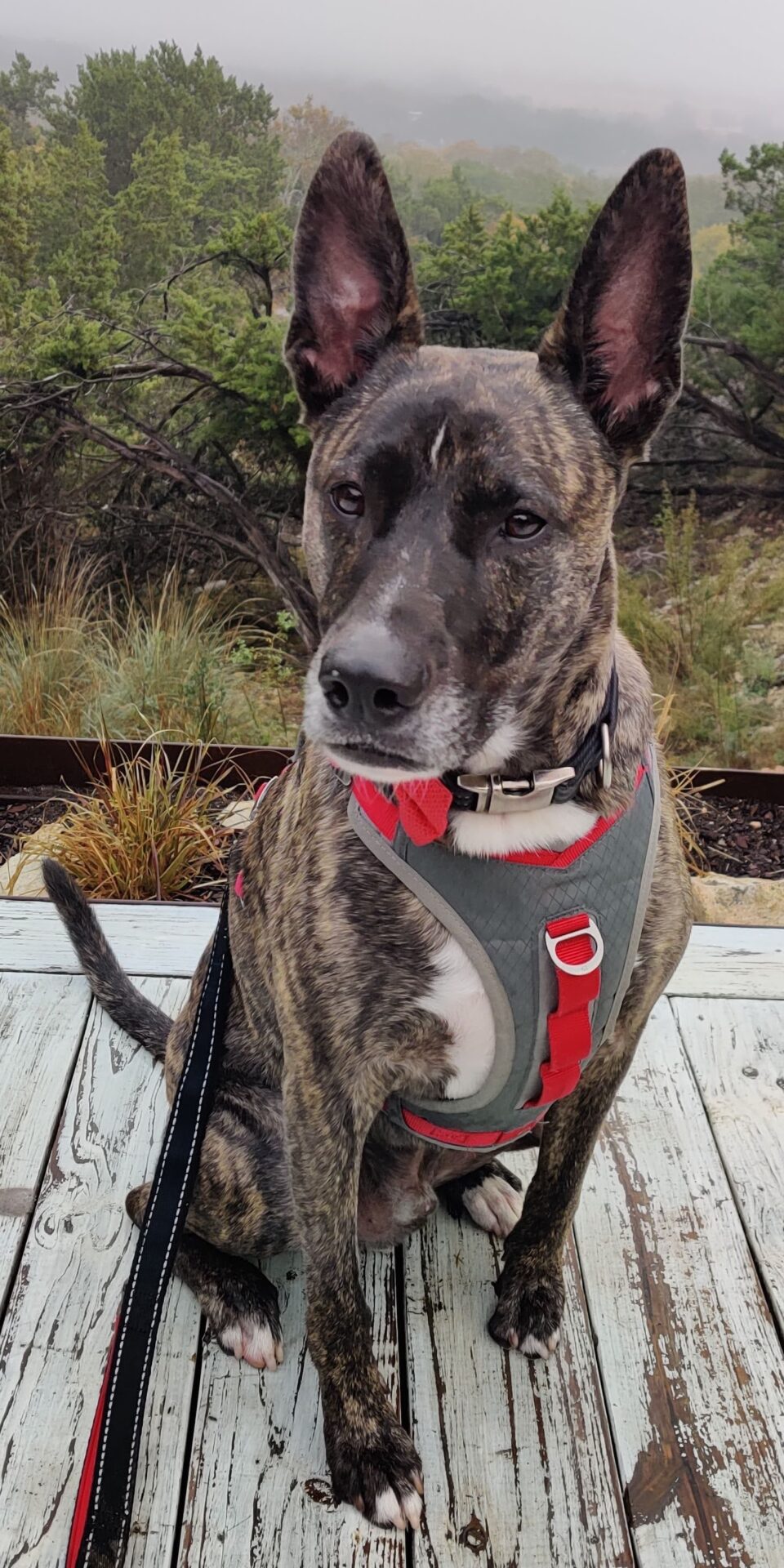 Macchiato Joe, CGC (Canine Assistant)
Macchiato Joe is our Canine Assistant. He helps us out when we are working with clients on socialization skills, testing reactions to other canines, etc.
Macchiato Joe was rescued from Harris County Animal Shelter at a very young age by Rosina and her family. He came with some big challenges. He was a crazy amount of energy, he would jump on everyone, was very mouthy, and had severe food aggression. With the dedication of his family and his eagerness to please he was able to reach his goals. Macchiato Joe is now a well-mannered gentledog!
He received his AKC Canine Good Citizen certificate and title at the age of 6 months of age. Since then he has continued his training in multiple disciplines such as Service Dog Training, Emotional Support Animal, etc.